Year In Review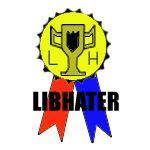 At the end of every year, I enjoy looking back on the things that made the biggest impact on certain aspects of life. Some things can't be ignored like chart topping albums, latest reality shows, and most importantly, what happened in my life. So due to the over abundance of events, I decided to give out official Libhater awards to the top performers in their respective categories. So without further hesitation, I give you the first installment of the 2005 Libhater Awards. If you notice, the award is a plaque, on top of a trophy, inside of a medal. This is some prestigious shit, so listen up.

Ugliest Chick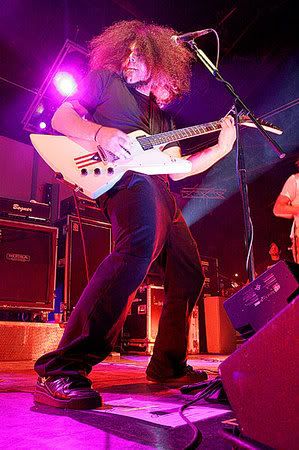 The lead singer of Coheed and Cambria. She's got such a pretty voice, And I like her hair, she just needs to lose a little weight and shave that shit around her lips. Runner up was Ashton Kutcher was runner up. Bizarre, Ashton is an awfully masculine name for a girl.
*If I hear one more review of this band being compared to Rush I'm gonna throw up.

Comeback of the Year


Carrot top has always been sorta jacked, so this picture might not be as fake as I thought it was when I first saw it. You know what, it's true. I don't care even if you tell me it's not. Props to him for staying out of the public and taking the time off to make himself absolutely awesome. Carrot top is my favorite comic ever.

Worst Band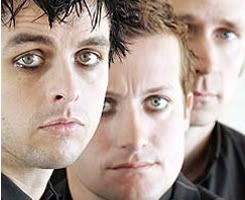 Wait a sec, I thought you guys were like 35 or 40 now, and you're still wearing eye liner? Listen, you're not helping America. In fact, All you're really doing is becoming less punk and tricking the youth of America into thinking they can all be rock stars, which would in turn make people who didn't have a band like me, popular. You can't always do what you want, and you definitely can't tell that many people to fuck the system cause then no one will have money to buy your shitty music. Supply and Demand. If you're gonna get old and refuse to sit out as the pop train picks up passengers, you might wanna take some hints from Henry Rollins and get an education, play the music that's actually good, and keep some dignity in the process.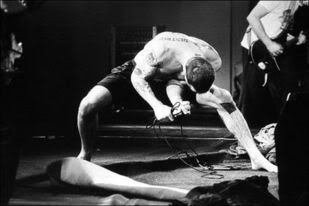 I will have to say that Henry Rollins is the only celebrity Lib that I'd actually like to hang out with, mostly because If I said I didn't want to, he'd probably come to my house and beat me up.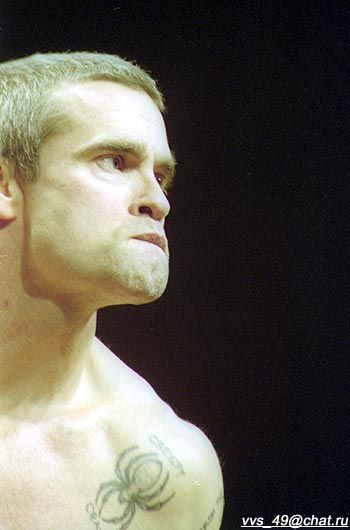 alright, next:
Almost Cool but not quite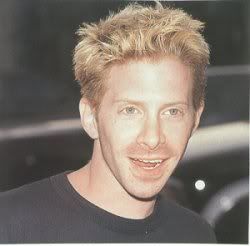 Does this guy even act in his films? It seems like he's just…talking like he would to anyone else. I guess he's a natural talker. Okay, so he talks like a retard on the family guy, great range. I'm convinced.

Dumbest Idea for a game, still.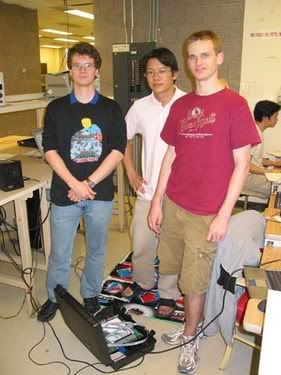 Getting laid is overrated anyway.

People are still playing this fucking game. Just cause I can hurdle a fence in a cow pasture doesn't mean I'm ready for the Olympics. Maybe the 3000 dollars of your moms money could've gone into dance lessons instead of teaching yourself how to river dance. You guys see the commercial for the video game rentals where a guy in his girlfriend are reading off titles like "lets count sand" and "lets wait in line". I could've sworn I saw a title in there that said "lets step on squares". Fuck yeah. I'm sure Bruce Lee limited himself to only 8 squares when trying to destroy someone in three moves. I'm still waiting for "Write Write Institution" where you sit in a desk and you have to write an essay to the tempo of getting hit by a ruler, or "Smell Smell Flatualation" where you stand in front of a vent and try to not pass out. If you've been to the Boston Museum of Science than just try to think of that god awful exhibit in the basement where they blow the animal odors at you to get a sense of what it's really like to be there. The only pro I've found to this game is a story on the news where this chick lost 50 pounds playing this game, but she was still gross. Come to think of it, everyone I've ever heard or seen play this game looks like an ugly tree victim.

If you still don't get it, I worked in the lab for a while hoping to make an analogy even you could understand.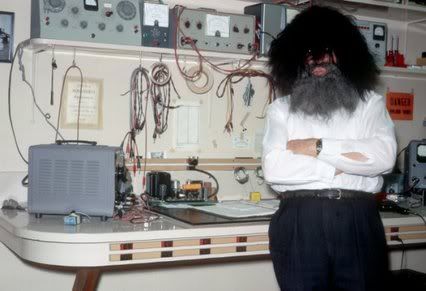 If this is the standard for how dancing can be acquired, then they should dumb down and give me a free pass with other social interactions, like I should be able to take my wiener and hit a chick in the face with it. Instead of getting slapped maybe next time they'll say "Wow, you must've been playing Dink Dink Slapitation". 2/3 of the DDR's title it a lie, and revolution is kind of giving it way too much credit.
*I was just informed that DDR only has 4 squares to jump on, which makes 4/3 of DDR's title a lie.
Yes, 133% of it is Bull Shit.

That's all for this installment, more coming next week, plus a great story about an old guy who only had to drive 3 miles from his friends house, back to his own…and got lost and hasn't been seen since.